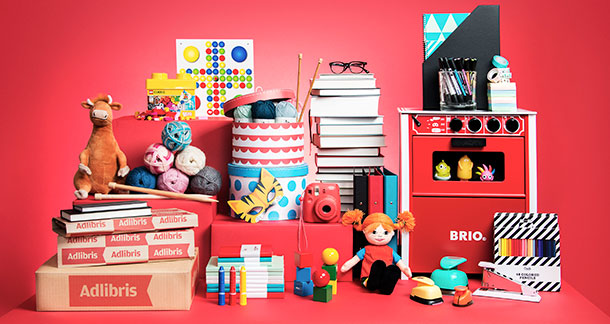 You're at the sci-fi shelf looking to get your hands on the latest Bella Forrest novel, when you suddenly catch a glimpse of… cheese doodles and ravioli! From now on, that's what you can expect when you visit Adlibris (yes, they run physical stores as well.) Bonnier's e-bookshop is venturing into groceries – an expansion no one really saw coming.
At Eqvarium, we're indeed friends of innovation, as it is the very foundation of our creative process. But when it comes to expanding your offer, you really need to be careful. As for the brand name, it's important to secure that it supports your business on your new market as well. If not, you may want to consider creating a separate brand and thereby avoid confusion.
Perhaps Adlibris is making an attempt to take on Amazon, but the competitor has a great advantage both in terms of supply and brand name. Amazon happens to be a great name for e-commerce, as it symbolizes the great variety of a rainforest. There is room for anything. Adlibris still sounds like a Latin library, and to have the consumer associate it with food and household items will be a real challenge – no matter how fast they deliver.
A limiting name with a too obvious association can damage your business in the long run. How do you look at your current brands and the expansion opportunities ahead?
Quote: "Oh no, we're out of toilet paper. Is Adlibris open? " – No one ever