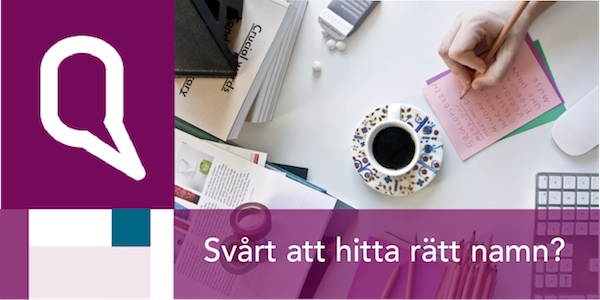 Have you tried to come up with a name internally but without success? The Name hunt will provide you a clear map and guide you in the right direction. Welcome to an open workshop where you'll learn to drive the name issue more effectively.
Why should I participate in the Name hunt? 
You'll become better at running issues involving names
You'll get increased expertise on naming matters that strengthen your value as a brand manager or marketing manager
You'll have access to Eqvarium's model for dealing with naming challenges in an effective way
Summary: 
Theory: We build the basics for successful name work, including theory and practical examples.
Practice: With practical exercises, that you can use over and over again, you'll get to think practically about your own name challenge or an imaginary one.
Exchange of experience: By working together with other decision makers from other industries, you'll get the opportunity to share experiences and ideas.
The workshop leader: Katarina Nilsson is a Naming Consultant with nearly 15 years of experience with name processes in companies such as Electrolux and Sandvik as well as smaller organizations. She explains how your company can use names to build relationships with customers and increase sales.
At the workshop, you'll get tips on:
How to choose a name that reflects the customer promise
How to create the right emotions
How right names can boost sales
Date and time: 
Thursday, April 24 at 1:00 to 3:00 pm in central Stockholm. Coffee, refreshments and workshop materials are included. Registration and coffee from 12.45.
Price 2 995 SEK. The seating is limited so that you to get the most out of the workshop.
Welcome to take a first step towards a strong name that evokes the right emotions and increase your sales!
The workshop is for you as a CEO, marketing manager, product manager, brand manager or other decision makers.
The workshop is in Swedish, but if you're interested in the information in English, please contact Katarina at katarina@eqvarium.com.
PS. Feel free to bring a name challenge that you face today and we'll help you with the first steps towards a solution.